Best Free Photo Organizing Software Mac
In the era when thriving social networks like Instagram, Pinterest and Tumblr took over cyberspace, a great part of Internet users want to keep up with the newest trends and be able to provide the platforms with decent pictures, be it selfies, random photos of nature or professional shots. However, only few of us actually know how to store this bunch of pictures in a smart and well-organized way.
If you have never heard of such thing as a photo organizer, you've come to the right place! Today we are going to have a look at photo organizing apps that will help you keep control over your images and process them more efficiently. Let's dive into it.
1. Adobe Bridge
One of the leading and most convenient apps to edit, manage and store big amounts of photos. The Adobe production is well-known and trusted worldwide with millions of loyal customers enjoying their apps like Photoshop, Lightroom and Adobe Bridge, of course.
The app supports all kinds of files and formats; the users create projects, manage their image colors, add watermarks to pics, organize HDR shots at ease and much more. You can work with PSD, RAW and INDD formats that take a lot of space and provide high quality. With Adobe Bridge, it will no longer be problematic to sort out the chaos of your photos, since all of them will be organized into folders; other great features include the rating of the images and tagging other people.
It's incredibly simple and quick to transmit your shots from a mobile device, DSLR or card reader directly to the application and begin processing right away. Drag and drop is an irreplaceable feature that comes in handy when you move files from one place to another. You can always name a certain picture or a set of them, as well as sort them all together.
Adobe Bridge is compatible with such platforms as Windows and Mac OS, which makes it a convenient app that any user can easily access the app and get the hang of it quickly, as you will find numerous videos on YouTube on how to operate the app. What is also worth mentioning is that you can download Adobe Bridge free and not necessarily pay for the app, which many photographers and amateur bloggers don't even know about.
Adobe Bridge CC is a free photo organizing Software that gives focal access to all documents and assets that are expected to work with innovative tasks. If you still do not believe professional photographers who call it the best photo organizer, download a free version, install it, and check its features. Price Movavi is an affordable photo manager that costs only $39.95 and is available both for the Windows and Mac.
Top 5 Best Photo Management Software for Mac To Organize Digital Photos. Organizing photos can be fun when you have a third-party app on your Mac. We have listed some of the best photo management apps for Mac. CyberLink PhotoDirector 365.
Apple Photos can be the best photo organizing software for Mac, if you are looking for a simple solution to sort and manage your photos on Mac. With its recent updates, Apple Photos is now capable of making personalized albums. It uses a smart curation which provides you with better organization of your photos.
Nomacs is a free and open-source picture organizing software that allows you to organize your photos with ease. The UI is simple, and it suggests that this image organizer does a few things.
2. Luminar 4
This software closes our list of photo organizing apps and it is in no way inferior to the competitors. Luminar allows you to sort and manage your files sufficiently with no effort thanks to a well-designed interface.
The app uses folders as the main tool to sort pictures, which is followed by another vital tool – albums. They enable you to organize images into groups, whereas the hard drive location will not change. Luminar also allows you to create subfolders if you need it.
Since the software operates on Windows and Mac OS, you will need to use Explorer (for Windows) and Finder (for Mac) to manage folders and their contents.
How do you choose between creating folders and albums? Well, you need folders to get a direct link to the hard drive, whereas you need albums if you want to sort things within Luminar without causing changes on your hard drive.
One more amazing characteristic of Luminar 4 is Quick Edit that enables you to process each picture individually without adding it to a collection or folder. You can always find recently opened images in a "recently added" or "recently edited" section.
You can easily find any item with the help of Shortcuts that use various criteria to organize pictures. In the All Photos section, all of the images you download are stored. Here you can browse pics by Year, Month and Day. In order to mark a photo as your favorite, just Flag them.
As you can see, Luminar 4 is a truly powerful organizer that you can use as both photo viewer and editor.
3. Google Photos
This file manager will help you work with photos and videos on your device in the most convenient way, as the Google team is famous for its success at keeping up with the modern standards when it comes to on- and offline activities.
After you have downloaded the app, your pictures will be transmitted to the cloud storage right away with the help of a synchronizing and search system. After the uploading process is over, you will be able to start organizing, searching and moving your files, as well as sharing them with other users.
Other great features include auto cache management, an arrangement of HDR images and panoramic views, as well as nice mobility options that enable you to upload photos from any device (card reader, mobile phone or DSLR). Ps4 remote play pc with xbox controller. Google Photos runs on famous platforms such as Mac OS, Linux and Windows.
The app operates quickly and has a nicely designed interface to make your organizing experience even more pleasurable. In addition to that, Google Photos can boast with other advantages: you can store a bundle of pictures in one place for free, search a needed image any time using different criteria, and archive those pictures you no longer need in your cloud. All in all, Google Photos makes a decent photo organizing app if your priority is storing pictures in a cloud, having quick and easy access to them and taking advantage of many features regarding photo managing.
4. Google Picasa
The name Picasa is the first thing that draws your attention; it is a mixture of the name of the prominent artist Pablo Picasso and the words "pic" and "mi casa". However, this extraordinary characteristic isn't the only reason to give Google Picasa a try.
First of all, the users will like the app's affordability – it operates with Mac OS, Windows and Linux, which makes it accessible for anyone. You can upload images directly from your scanner or camera. The app will process all possible file formats.
There's no need to worry about the lack of space within your app, as Google Picasa manages cache automatically. Speaking of transportability, the users can import files from smartphones, digital cameras or card readers.
You can process and style all possible sorts of images, such as HDR pictures and panoramas, create thumbnails if you need them, add geo-tags, edit your photos and retouch them, use graphic effects such as red-eye removal, create collages and so on.
Please note that Google Picasa is no longer available for download from the official Google website, as they have opted for Google Photos and now are dedicated to developing it instead, although you will easily find Picasa on many online platforms.
In conclusion, Google Picasa is a great organizing software that helps you manage your images and make minor amendments where necessary. You can always create and set a new screen saver with Picasa!
5. Picktorial
If you think Picktorial and Lightroom have something in common in terms of their appearance – you're not the only one. The two applications do have similarities in the design of the app. Nevertheless, this organizer is a fully independent and unique app with its own characteristics and features.
One of the outstanding advantages of Picktorial is that it cooperates with your PC file system, which allows you to manage your images outside the application and create folders. Picktorial enables users to select images, rate and rank them, and apply presets for quicker results and less effort.
One more prominent feature is the customizability of interface, which implies the most convenient usage that you yourself contribute to and can take the best advantage of. All the needed tools can be reached within one single window. Picktorial supports many formats, and RAW files as well.
What is important here is that you can actually edit your images via Picktorial, since it has all the essential tools in no wise worse than in Lightroom. For instance, Picktorial has useful tools for color correction, as well as curves, watermark and retouch features.
Best Free Photo Organizing Software Mac Free
Picktorial only supports Mac OS, which for some may be problematic, although Picktorial compensates this drawback with the impressive range of cloud services to use the app with Google Drive, Microsoft OneDrive, Dropbox, iCloud, all of them easy to synchronize with. As soon as you open Picktorial on your device and synchronize it with cloud storage, it will update all the changes made in the app automatically.
6. StudioLine Photo Basic
This photo viewer and organizer suitable for digital image processing, formatting, archiving and basic editing. Although StudioLine Photo Basic is only interoperable with Windows, it compensates with incredible work speed, smoothness, and great functionality. As in many other apps, automatic management of your storage will facilitate the process of finding room for new files – StudioLine Photo Basic will do the work for you.
Access to a database enables you to search images, import photos from digital cameras and other devices like scanners, use more than 30 professional tools for your work, add descriptions to files and process two and more images simultaneously – all of that possible with StudioLine Photo Basic!
If you share an interest in editing your pictures via the organizing app, StudioLine Photo Basic can offer additional editing possibilities: rotating photos, cropping them, remove red-eye effect, change the size, which is only a small part of all the tools that the software offers. You will also be able to tag others in your photos and sort everything into folders, which contributes to better convenience during the software operation. Be sure to create a few slideshows, upload your masterpieces to a photo gallery online, and share the best pictures with the world.
StudioLine Photo Basic is one of the least famous photo managing application, although it has numerous features that make it a decent option on the market. You can always check the app for yourself and make your own conclusions.
7. XnViewMP
Another decent option to choose is XnViewMP. This trusted application offers a great variety of features, like space managing or photo editing. XnViewMP will meet your creative needs whatever they are.
The application makes a powerful multifunctional software that helps you process files on your device smartly and effectively. Get a chance to view, convert and make catalogs via XnViewMP.
Great news – XnViewMP supports popular platforms such as Mac OS, Windows and Linux. The app is available for free use so that you can get yourself an updated version without any problem. However, the users should be aware of the fact that this software doesn't possess a synchronization feature to use it with cloud storage.
XnViewMP is a fast and advanced photograph viewer that can process hundreds of photo formats – an impressive number even these days! You can have your images saved in JPEG to post them on Instagram or in RAW to get the best quality and editing possibilities. XnViewMP does not help you organize pics automatically as other apps do, but it still offers nice tools for metadata editing and batch-mode tagging, which enables you to distribute tags to images.
XnViewMP supports multipage and animated files, makes screenshots and conducts scanning from the app directly. With XnViewMP you can edit EXIF data, which is an advanced feature rarely found in similar apps. Also, be sure to make your own slideshows and even try creating graphic presentations.
As you can see, this affordable photo-organizing app will become your right hand in the world of data management and photo editing and make those two a truly pleasurable experience.
8. FastStone
Let us introduce one more appealing app for your creative needs – designed for Microsoft Windows users, FastStone application aims to view pictures and process them. The software has won the trust of its users over the last decade and has become one of the best apps of the kind.
This app occupies the leading position among its competitors on the market, and there's a number of reasons for that. Let's find out why FastStone is worth working with when processing images.
Firstly, FastStone is beloved by users for its simplicity and smart design with all the tools kept in one place and easy to reach. The software analyses the uploaded images, giving you specific information about each photo, such as its weight, timeline and format. Moreover, FastStone can process a huge number of photo formats to be useful for everyone.
Apart from the great photo organizing features, FastStone provides its users with numerous tools for the successful managing and editing of your files. For example, you will be able to conduct basic manipulations essential to achieve good results when working with photographs. These include tagging other people, sorting your pictures, viewing EXIF data and so on. Smart image viewing makes the process of editing a better experience.
Another aspect of FastStone operation is that you will not be able to keep your files in the cloud while using the app and will have to keep them on your PC instead. However, the accessibility of FastStone and a remarkable number of editing and managing features make it a great alternative as a photo organizing app.
9. MAGIX Photo Manager
This photo organizer will impress you with its vast range of opportunities for work with your files, and a joyful experience you will get while using the services of MAGIX software. MAGIX enables you to organize files into collections, find and save videos, as well as optimize your library in the most suitable and convenient way.
Unfortunately, only Windows users can enjoy working with this program. Nonetheless, MAGIX can compensate with high operation speed and great functionality. It also has a comprehensive interface that even a child will learn to deal with quickly and at ease. MAGIX software provides you with details about each shot that you upload and process, which implies parameters such as weight, date and photo format. The auto photo setup facilitates your work within the app, letting you organize the pics in split seconds.
Please note that, although available as a free trial version, MAGIX Photo Manager only offers the best of its features in a paid version. The software doesn't support cloud storage either.
We can still say that MAGIX Photo Manager is a worthy alternative for photo organizing, editing and sharing. MAGIX Photo Manager classifies images the way you like it best, such as giving them names, adding a date or specific tags. You will also take advantage of editing tools with outstanding features, like the one where you can edit panoramas.
To conclude, MAGIX Photo Manager is a true professional and performs its duties at the highest level, although not available for free.
10. JetPhoto Studio
This photo organizing software will be of good use to photographers, both professional and amateur ones, and web-designers, as well as those of you who just want to have your images structured and sorted in a smart way. The vast range of tools and features of JetPhoto Studio will catch the eye of average users and meet any kind of demands.
What's so special about JetPhoto Studio? Well, it has an outstanding feature of adding location tags to your pictures, this way you can keep up with the latest trends of sharing your location with other users.
Apart from that, the software possesses the set of essential features that any organizing app should have. They include adding graphic effects to your images, color adjustment, managing storage automatically and, of course, the ability to structuralize your pics due to the use of folders and albums. Web-designers will find it appealing that you can make Flash galleries and slideshows to later on view in a certain player or browser that supports Flash.
However, it should be mentioned that JetPhoto Studio has no access to cloud storage so that you will have to keep the files on your computer solely. Still, the software itself operates on Windows and Mac OS that makes it quite reachable for those who want to give the app a go.
Taking all of the before mentioned into account, JetPhoto Studio makes a reliable application to help you start your photo-editing career or just add a new activity to your pastime.
11. Phototheca
Windows 10 users, get ready to meet the perfect picture organizer that will meet all your needs – Phototeca makes the managing, editing and sharing of your files as easy as that; you will also get to try numerous additional features!
The app's secret weapon is the amount of time that you save while organizing whole photo collections instead of separate units. Having imported your files to Photoetch storage, you will be able to group photos made on the same day, or organize them by events and transmit into folders. Sort your pics through albums to find the needed shot quickly and never lose a single picture in the mess of images. Also, remember to tag your friends in the group photos, which Phototeca enables you to do as well.
Speaking of the Smart Album feature, which is definitely worth trying, it will help you create and use unique collections of images using specific criteria to find the needed picture. This feature contributes to the time-saving experience organizing your photos.
Find out some additional info about your images to process each pic individually for better results. Import pictures from any device, be it DSLRs, memory cards, online resources, hard drives or iOS devices. Be sure to use keywords to leave tags on pictures or videos, get rid of the duplicates and upload your beautiful photos to social media.
Phototeca will help you get the files well organized and edited with a minimum of effort and time spent.
12. DigiKam
If you aim to process digital photos, then DigiKam is just what you have been looking for. This software makes a significant program, pics cataloger and editor, integrated into KDE.
Operating on Windows and Mac OS, DigiKam boasts with smartly developed interface, smooth and quick operation and outstanding functionality. The automatic image setup feature and quick photo organization make the app a decent competitor to other similar photo-related software. What makes DigiKam stand out in the crowd, however, is the built-in graphics editor, allowing you to process and edit the picture in one single place using all the needed tools to succeed.
It's a pity that DigiKam doesn't support cloud storage, but you can always find additional means of having extra space on your device for file storage. What DigiKam does provide is the ability to create folders and albums, adding appropriate tags, ratings, and even comments, which contributes to your communication with other users.
DigiKam works with the SQLite database where you can process your files and view metadata. Take advantage of the built-in lighting table and RAW format support, whereas plug-in support expands the range of features.
Despite being in the process of developing, DigiKam is a great application that you can start using right now.
13. Apowersoft
Open and process various files with the help of Apowersoft, your right hand in organizing photos for a vast range of different purposes.
The software is interoperable with Mac OS, Windows and Linux, so it will be easy for you to get a piece of that cake. The strong side of the app is high operation speed as the app carries out the tasks smoothly and without lags. You can find interesting details about your files, organize them within minutes and just enjoy the convenience and the design aesthetics. The embedded graphics designer will make good use if you are interested in something more than usual photo editing.
Learn to sort your pictures simply with Apowersoft. This organizer allows you to work with an impressive variety of formats, such as jpeg and pdf. You can also open HEIF/HEIC and view them in Windows and transfer them into other, more convenient formats like jpg, png and many others. Although the software doesn't include cloud synchronization, it makes up for this disadvantage with numerous features.
The users can also take pictures of their screen just during the working process and edit photos with innovative tools. Since Apowersoft operates based on modern technologies, it renders the best quality services in terms of photo storage and editing. Don't hesitate and try out the latest version of Apowersoft for impressive results in photo editing.
14. Nomacs
If you have never heard of Nomacs, it's high time you finally gave it a try. Choose your best shots and let's start exploring the editing world together with Nomacs!
This image viewer is an open-source platform that conducts various operations and is easy to use. You can process different picture formats from JPEG to RAW, while the app supports 39 graphic formats.
Windows, Mac OS and Linux users can download this software and get down to editing and sorting their files. You can crop your pictures, rotate them, change the size, edit colors, brightness, contrast and so on. Take use of auto-adjustment of your pictures to avoid time-consuming and difficult processing.
Although Nomacs may seem a bit out-dated compared with its modern competitors, Nomacs still offers key features needed for basic and successful photo processing. The operation speed is high and sufficient for great quick results.
What is interesting about this very app is that you can synchronize work between multiple users using the same device or one local network. This way you can compare some images and recognize what's different and similar about them.
Best Free Photo Editing Software For Mac
Don't let the outdated design scare or discourage you – Nomacs remains a powerful image-related application that may come in handy to a modern user when it comes to the processing of pictures.
15. XnView
This managing application is a cross-platform software for image viewing and processing. It boasts with a huge number of formats that it can process!
For users who need the app just for learning new things, XnView offers a free version of the software. However, you can always purchase a paid version and get a bigger amount of features to use.
XnView is supported by Mac OS, Windows and Linux. On each of them, the app operates with great speed and produces sufficient results. The simplicity of the interface will be of good use to children or people who possess little knowledge and experience in the technical sphere.
While the functionality in the free version of the app leaves something to be desired and no cloud storage is supported, XnView can offer some key features, such as basic photo editing, color management; you will also take advantage of lossless conversion of JPEG files. The application can be connected to scanners and printers as well.
You can preview your files, open them in the full-screen mode, keep track of the numbers of colors in the picture and use many other features.
This app will serve you as a decent file viewer and editor, through which you will convert images, store them and work with more than 500 file formats.
It seems obvious that XnViewer has all the essential functions to compete with other similar apps on the market, so there's no reason for you to miss this opportunity.
We hope that our reviews will help you make the right choice and select the most suitable program to meet your specific needs!

January 02, 2020
18 min to read
Most free photo editors available on the App Store are quite basic, offering just a limited number of filters and allowing you to easily and quickly liven up your photos before posting them on social media.

Best Photo Editing software, free download
But if you're an aspiring or professional photographer, you probably need a more powerful app with a broader set of tools to use your creativity to the fullest. Besides, you probably use your Mac for photo editing because working on a large screen makes it possible to adjust the slightest details.
1. Apple's Photos (Built-in app)
Apple's Photos app is included for free on all recently released Macs. It does a good job at organizing your photos, but its collection of photo enhancement tools leaves much to be desired. Hopefully, our selection of the best free programs for photo editing on Mac will help you choose the right app to suit all your creative needs.
2. Luminar (7 days trial)
Luminar is another full-featured photo editor that's popular with both Mac and Windows users. It can work as a standalone app as well as a plugin for such popular programs as Apple Photos.
Luminar uses Artificial Intelligence to enable sophisticated yet quick photo enhancements. Among these AI features are Sky Enhancer, which adds more depth and detail to the sky in your photos while leaving other areas untouched; Accent AI, which analyzes a photo and automatically applies the best combination of different effects to enhance your image; and Sun Rays, which allows you to place an artificial sun and adjust the lighting to your liking or make the sun rays already in your photo look even more incredible.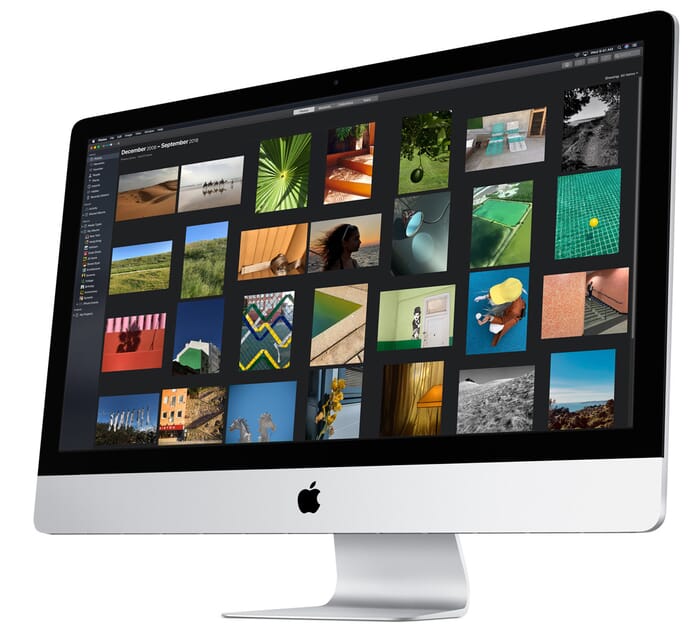 Luminar has over 60 filters you can apply to your photos to enhance them in a moment. Luminar also provides a set of powerful tools for cropping, transforming, cloning, erasing, and stamping, along with layers, brushes, and many more incredible features. Luminar supports the Touch Bar on the latest MacBook Pro, making photo editing even more effortless and pleasing.
3. Photolemur 3 (Free Version with watermark)
Photolemur is a relative newcomer on the photo editing market but it has all the chances to win the favor of beginner photographers and hobbyists. Running on Artificial Intelligence, Photolemur is a completely automatic photo enhancer, meaning that it does all the editing for you in no time. It has the simplest interface, with only a few buttons and sliders to adjust the enhancement to your liking and view the before and after results.
All you need to do is choose a photo (or a few) that you want to improve, drag and drop or import them using the Import button, and let the program make enhancements. After it's done, you can compare the edited version with the original image by using the before–after slider and, if you want, adjust the skin tone or even enlarge the eyes using additional sliders. Pretty easy, huh?
Photolemur also offers a number of impressive styles to touch up your photos and give them a sophisticated and professional look. With this app, you don't need to stuff your head with photo editing nuances and terms. Just run Photolemur and watch the magic happen!
4. Aurora HDR (14 days trial)
As you probably can tell from the name, Aurora HDR is designed to help photographers enhance their HDR photos, making them even more detailed and beautiful. It's an ideal tool for editing your photos, with an extensive collection of more than 20 tools including details, tone, mapping, color, glow, and vignette. Each tool has its unique selection of controls to adjust its effects.
Aurora HDR enables you to work with brushes, layers, and masks, and provides a number of automatic AI tools for recognizing and removing noise, enhancing colors, lighting, and details, improving clarity, and adding contrast to dull areas while leaving other areas untouched.
Aurora HDR does a great job dealing with difficult lighting situations and creating full-of-life images while being easy to use.
5. Pixelmator (Trial 30 Days)
Pixelmator is a photo enhancer beloved by many Mac users, as it offers a good combination of a modern and simple interface, the ability to work on multiple layers, and powerful features that take photo editing to a whole new level. With so many editing tools, brushes, and effects, you can enhance your photos to your liking. You can choose between two versions of Pixelmator – standard and pro – depending on your needs. The standard version is great for basic photo editing with its selection of essential tools and filters, while the pro version is packed with extra brushes, tools, and effects that let you push your creativity to new boundaries. You can decide which version is suitable for you according to what features you're looking for in a photo editing app.
6. Adobe Photoshop Elements 2020 (Trial link)
Photoshop Elements isn't as affordable as other photo enhancers for beginner photographers. But luckily there's a trial version available, so you can check it out before deciding whether this app is worthy of your money. Photoshop Elements acquired many powerful features from Photoshop, only Elements is simplified for amateur photographers and enthusiasts. It includes a good number of effects and filters, plus automated editing options for improving lighting, color balance, and exposure, and even opening closed eyes and reducing the effects of camera shake.
In addition to all of these awesome features, Photoshop also offers editing modes for beginners, intermediate users, and experts. Beginners will probably prefer Quick mode, as it focuses on essential tools to quickly enhance your photos by improving color, lighting, and other basic settings. Guided mode provides intermediate users with step-by-step guidance with more professional features like artistic effects, skin tone correction, and background replacement. Expert mode gives you full access to the app's really powerful editing features and is ideal for creating stunning images.
7. Affinity Photo (Free Trial)
Affinity Photo's interface may seem overwhelming at first, especially for novices, but when you come to grips with it you'll find that the app is just what you've been looking for. Its numerous professional tools, effects, and filters encourage you to get creative with your photos. Among the coolest features Affinity Photo has to offer is a before and after view to compare the original photo with its edited version.
Affinity Photo works with 15 file types, including common ones like PDF, PSD, JPG, and GIF as well as some less popular ones. The app amazes with its abundance of basic and top-notch editing tools, allowing you to tweak your photos using all possible kinds of instruments. Affinity Photo allows you to edit HDR photos, apply artistic filters and effects, play with masks and layers, and create breathtaking compositions by combining several images in one. If you find its interface a bit much and are afraid of getting lost in all those advanced tools, you should probably look for something more suitable for your level. But Affinity Photo is worth mastering.
8. Google Photos
Google Photos is a popular cloud storage service for photos and videos. It can't boast countless masterly tools like other photo enhancers that we review in this article, but it includes some fundamental features like filters, color adjustment sliders, and transformation tools.
Although Google Photos may not be that helpful when it comes to editing photos, it does a pretty good job at storing high-resolution images and videos with 15GB of free online storage, compared to iCloud's mere 5GB (which you can upgrade to 50GB for a monthly fee). If you're planning to go on a trip and take plenty of photos, then it might be smart to sign up for Google Photos to use that extra storage space when you come back.
9. PhotoScape X (Free)
A relatively new photo editing app, PhotoScape X has been gaining popularity with many Mac and PC users since its release in 2008. Its interface is simple but unconventional, with a number of tabs running along the top of the window. Each is responsible for a specific stage of editing. The Viewer tab allows you to browse and organize your photos. After you pick a photo, you can switch to the Editor tab, which includes a broad set of instruments, filters, and effects and a useful feature that enables you to compare the adjusted photo with the original.
Best Free Photo Organizing Software Mac Os
The next tabs, including the Batch tab, mainly concentrate on editing and renaming multiple photos at once. The GIF tab allows you to easily create an animated GIF from a group of selected photos.
The downside of PhotoScape X is a lack of selection tools, so all changes are applied to the whole image rather than to a selected part.
10. Gimp (Free)
Free Photo Apps For Mac
Gimp is a free open-source photo editing app that has been on the market for over 22 years and is available for Windows, Mac, and even Linux. Unlike many free apps, Gimp doesn't have any ads or in-app purchases. Its grey interface might seem a little old-fashioned and it may be a bit sluggish when it comes to complex effects, though.
Best Free Photo Organizing Software Mac Version
Gimp offers a vast collection of advanced tools that hardly any free photo editor can boast. It has numerous enhancement options such as clone and heal brushes, layers and channels, accurate selection tools, a number of transformation instruments, and, of course, color adjustment controls. Gimp is one of the most powerful tools for enhancing photos and is beloved by so many users for its price (free) and versatility. But if you can't come to grips with Gimp's interface, it may be worth paying some cash for a more user-friendly program.