New England Conservatory Ragtime Ensemble

Online Audio Program Listing Other Sites on the Web
In 1973 The New England Ragtime Ensemble (then a student group called The New England Conservatory Ragtime Ensemble) recorded The Red Back Book, a compilation of some of Joplin's rags in period orchestrations edited by conservatory president Gunther Schuller. Listen to some other rags by Joplin and maybe other composers. One of the best recordings is the Red Back Book, recorded by The New England Conservatory Ragtime Ensemble under Gunther Schuller. On the Angel label, it is out on CD, tape, and can probably still be found used on LP.
He has composed, conducted, published, played, innovated, and originated. He's won a Pulitzer Prize and is now writing his autobiography. Gunther Schuller, born in 1925, will be 75 this year. He's credited with the Ragtime revival in the 1970s, with his New England Conservatory Ragtime Ensemble, and the coining of the term 'Third Stream' in the '50s. Schuller played French horn in the Metropolitan Opera Orchestra at the same time as he was playing and working with the greatest jazz lights of the era: Miles Davis, Charlie Parker, Charles Mingus. He feels that jazz and classical music are equal, and as such, decided to combine the physical and figurative elements of both genres into what he called the Third Stream. In 1994, he won the Pulitzer Prize for his orchestral piece
Of Reminiscence and Reflections.
Listen in: Hear Gunther Schuller discuss his work, along with a sampling of his music (RealAudio 3.0; how to listen)
Music from the Show
JOPLIN: Maple Leaf Rag
from Scott Joplin: The Red Back Book - New England Ragtime Ensemble/ Gunther Schuller ANGEL/EMI 47193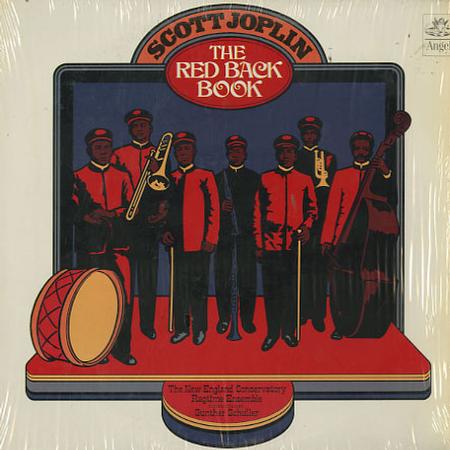 SCHULLER: Scherzo-Finale
from Concerto No. 1 for Horn and Orchestra from Gunther Schuller Three Concertos - Richard Todd, horn; Saarbrücken Radio Symphony Orchestra/ Gunther Schuller GM Recordings 2044
MINGUS: Revelations (first movement)
from The Birth of the Third Stream - The Brass Ensemble of the Jazz and Classical Society/ Gunther Schuller COLUMBIA 485 103
VERDI: Opening storm scene from Otello (complete opera)
National Philharmonic Orchestra/ James Levine RCA 39501
SCHULLER: Blue Dawn into White Heat
from Blue Dawn into White Heat - University of Minnesota Symphonic Wind Ensemble/ Craig Kirchhoff INNOVA 517
SCHULLER: Arab Village and Pastorale
from 'Seven Studies on Themes of Paul Klee' from Dorati conducts Gershwin, Copland, Schuller, Bloch - Minneapolis Symphony Orchestra/ Antal Dorati MERCURY 434 329 Adobe cc trial expired.
SCHULLER: Of Reminiscence and Reflections
from Gunther Schuller: Of Reminiscence and Reflections - North German Radio Philharmonic, Hanover/ Gunther Schuller NEW WORLD RECORDS 80492
New England Conservatory Of Music
PARKER/GILLESPIE, arr. SCHULLER: Anthropology
from Gunther Schuller: Jumpin' in the Future-Orange then Blue GM Recordings 3010
Other Sites on the Web
Gunther Schuller biography
GM Recordings: a music label founded by Gunther Schuller
The New England Conservatory Ragtime Ensemble
Your music purchase through
Public Radio MusicSource
helps support public radio